https://thecameronteam.com/  Jeff and Lisa Cameron 480-502-7699 Scottsdale Realtors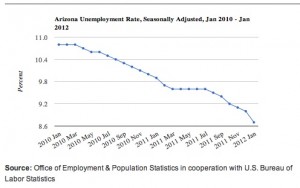 The last thing we needed to make this economic recover was steady Job Growth. It appears to be happening. In February, 227,000 new jobs were created across these United States. On top of that, revisions to December and January increased the number of jobs created in those months by a combined total of 61,000. Therefore, 288,000 more people are known to employed today, that were known yesterday!
In all, 734,000 jobs have been created in the last 3 months alone. It will be interesting to see how the press throws a negative spin on this news. We shall see what they say.
In Arizona, the numbers weren't as good. Even though AZ lost jobs in January, it was 38% lower than the pre-recession 10 year average of 55,500. We lost 34,300 jobs in AZ for January. However, we have 37,800 more jobs in AZ today than we did a year ago! I am looking forward to the February report due out in a few more weeks. I will update you at that time.
Jobs are the final answer to recovering from this recession. I believe jobs will be coming to AZ over the next year. As the jobs grow, it will spiral to more jobs. As soon as we have absorbed all the vacant homes from the housing crisis, values will bounce. Once values bounce at reasonable rate, builders will be able to build at a profit again. This will happen soon.
Realize that with normal population growth we have a demand for 35,000-40,000 new homes each year. Over the past 3-4 years we have only been building 10,000-15,000 new homes each year. As those vacant homes dissipate, demand for new homes will grow. As demand for new homes grows, builders will build. To build, builders will need to hire construction workers. They will need carpet, paint, window coverings, pools, appliances, stacked stone, and more. This will be a huge economic boost and it is coming soon!
How do I know it is coming soon? First, there are only 12,500 homes listed for sale right now. We have demand for 8,000 homes to be sold each month over the next 4 months. Borrowers behind on their mortgage is down to near normal levels, borrowers in foreclosure is approaching normal. There are less and less short sales. With property values rising, HARP II, and jobs more people will stay in their home, even when upside down.
Last and most importantly, what goes up must come down. And what goes down, must come up! Based on the "coiled spring" theory, the longer a market is depressed the larger the bounce when it recovers. Housing has been dropping since 2006 in the valley. Prices in some areas are back to 1995 levels and others 2001 levels.
Seasonal Job Losses Below Historic Average;Unemployment Rate 8.7%
The seasonally adjusted unemployment rate for Arizona in January was 8.7% (see Figure 1).  The unemployment rate for December
2011 was revised upward from 8.7% to 9.0%.  As a consequence of the annual benchmarking process, unemployment rates for prior
months were also revised.  See pages 4 and 5 for details on this year's annual benchmarking.  The U.S. unemployment rate in
January fell two‐tenths of a percent from 8.5% in December to 8.3% in January. Over‐the‐month job losses are typical in January.
Arizona lost 34,300 or ‐1.4% of the Nonfarm jobs in January (see Figure 2).  Leaner hiring in the fourthquarter was a contributing
factor for lower than average seasonal losses in January.  The recent ten‐year average (2002‐2011) was a loss of 59,700
Nonfarm jobs or ‐2.4%. The pre‐recession ten‐year average (1996‐2007) was ‐2.4% or a loss of 55,500 jobs.
By Chris Middleton – Mar 9, 2012 6:39 AM MT
Following is the text of the February employment report from the Labor Department.
Nonfarm payroll employment rose by 227,000 in February, and the unemployment rate was unchanged at 8.3 percent, the U.S. Bureau of Labor Statistics reported today. Employment rose in professional and businesses services, health care and social assistance, leisure and hospitality, manufacturing, and mining.
…
Establishment Survey Data
Total nonfarm payroll employment rose by 227,000 in February. Private-sector employment grew by 233,000, with job gains in professional and business services, health care and social assistance, leisure and hospitality, manufacturing, and mining.
Professional and business services added 82,000 jobs in February. Just over half of the increase occurred in temporary help services (+45,000). Job gains also occurred in computer systems design (+10,000) and in management and technical consulting services (+7,000). Employment in professional and business services has grown by 1.4 million since a recent low point in September 2009.
…
The average workweek for all employees on private nonfarm payrolls was unchanged at 34.5 hours in February. The manufacturing workweek edged up by 0.1 hour to 41.0 hours, and factory overtime was unchanged at 3.4 hours. The average workweek for production and nonsupervisory employees on private nonfarm payrolls edged up by 0.1 hour to 33.8 hours.
In February, average hourly earnings for all employees on private nonfarm payrolls rose by 3 cents, or 0.1 percent, to $23.31. Over the past 12 months, average hourly earnings have increased by 1.9 percent. In February, average hourly earnings of private-sector production and nonsupervisory employees rose by 3 cents, or 0.2 percent, to $19.64.
The change in total nonfarm payroll employment for December was revised from +203,000 to +223,000, and the change for January was revised from +243,000 to +284,000.
The Employment Situation for March is scheduled to be released on Friday, April 6, 2012, at 8:30 a.m. (EDT).
To contact the reporter on this story: Chris Middleton in Washington atcmiddleton2@bloomberg.net
Looking to sell your home and want the highest price at the lowest cost with no hassles? Watch the video below:
Take a video tour of McDowell Mountain Ranch: