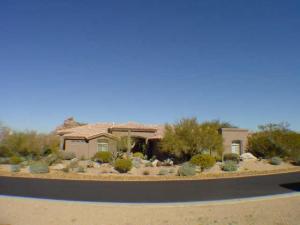 Are you looking for a home in Windy Walk Estates? Here is your sneak peak at this coming soon Semi Custom Santa Barbara in Troon Village.
Views, Views, Views. If you are looking for a fabulous View this home has it. From just about every room the expansive view grabs the mountain scape of the troon area and Pinnacle Peak. You will love these views. "We came into the house and just Fell In Love with the Views," says the current owner. Nearly 4,400 square feet of Luxury and offering 5 bedrooms, each with a private bath and of course a powder room. This home is a 3 x 2 split creating perfect privacy for the master bedroom. Contemporary style to this kitchen as it opens to a fantastic great room and incredible views. Of course there are travertine floors and huge ceilings to open the floor plan. In the backyard is a large play pool to relax or entertain by, along with built in BBQ and large Spa. You will love the yard, the views and the desert feel.
This home is in Pre-foreclosure and is one of those Luxury Short Sales in Scottsdale. Some come take advantage of this market and get a fantastic home and investment for the future!
This is a Wells Fargo Short Sale. They are the best. Wells started with Wachovia and their Fast Track system. They understand 3 to 4 months for an approval is pathetic and destroys our real estate market. My contacts at Wells Fargo tell me we will have a response in 45 days. Not 45 days from a purchase contract, but 45 days from when we submit our package. That is awesome. Hey B of A, look at what smart banks do!!!
For a private tour, please call 480-502-7699 and ask for The Cameron Team
Jeff Cameron
Are you a buyer looking to purchase a Short Sale Home at a Great Price? If so, you want to be aware of the fact that some listing agents continue to search out other buyers, keep the home on the market for sale, have other offers and when they get a response from the bank they go back to ALL the buyers looking for highest and best. When you buy a Short Sale, you want an agent that knows the ins and outs. What to look for to secure as the only buyer for that home, The Cameron Team and our buyer specialists are experts in Short Sales and Bank Owned Foreclosure homes. We know the tricks and are your best choice. Call 480-502-7699 or email Jeff@TheCameronTeam.com
Are you a Seller Looking to sell your home in a Short Sale? Before you act, know your options. We have videos that walk you through the process in the privacy of your own home at what every time you wish to watch as many times as possible!
the links below will take you there:
Before Foreclosure and Short Sale: What are my Options?
Before Foreclosure and Short Sale: Save my Home!
Before Foreclosure and Short Sale:
Before Foreclosure and Short Sale: Save my Credit Through Short Sale
Before Foreclosure and Short Sale: Last Step – How to Clean up My Credit!
Or for a Free 1 hour consultation and a referral to an Attorney for 5-10 minute Free consultation call me at 480-502-7699 or click here to contact me!