Finally the numbers are coming out!
But this is from December. Come on! Why can't they get the January and February numbers. They are easily available to access.
Inventory of single family homes for sale in metro Phoenix continues to drop. We are on track to drop over 10% from the end of February to the end of March 2012.
Prices are up all over and people are getting it. Let's face it the market was way over sold. If you look at the Case Shiller chart below you can see how over sold the market is for housing in metro Phoenix.
The middle tier is rating about a 95 with the year 2000 = 100. Therefore, our values are below what they were in 2000. If you follow the line from about 1995, just using its angle. Then follow the angle instead of the line when you get to 2004. Follow the angle out to 2012 and you will end up somewhere in the 175-180 range.
I am not saying prices are going to double. But they are headed up and strongly up real quick.
There are only 11,300 SFR for sale valley wide. There is demand for 8,000 buyers per month over the next 4 months. Without the supply we will see more bidding wars and values climbing! I think quite dramatically.
Let me know if you want some information on your neighborhood:
Jeff Cameron
MRW Homes
480-652-2004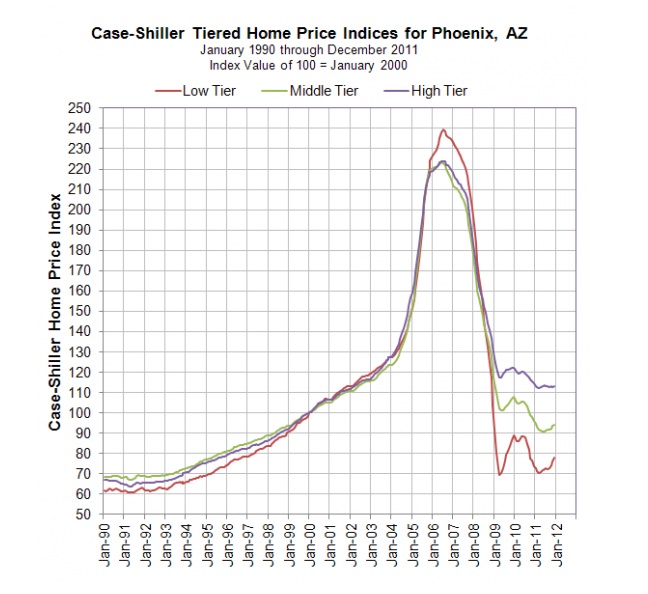 by DEREK KRAVITZ – Mar. 27, 2012 06:18 AM
AP Real Estate Writer
WASHINGTON – — Home prices fell in January for a fifth straight month in most major U.S. cities, as modest sales increases have yet to boost prices.
The Standard & Poor's/Case-Shiller home-price index shows prices dropped in January from December in 16 of 19 cities tracked.
The steepest declines were in San Francisco, Atlanta and Portland. Prices increased in Miami, Phoenix and Washington. Price information for Charlotte was delayed and therefore not included in the report.
The declines partly reflect typical offseason sales. The month-over-month data are not adjusted for seasonal factors.
Still, prices fell in 17 of the 20 cities in January compared to the same month in 2011. That suggests the housing market remains weak, despite the best winter for sales in five years.
The Case-Shiller monthly index covers half of all U.S. homes. It measures prices compared with those in January 2000 and creates a three-month moving average. The December data are the latest available.
Nationwide, prices have fallen 34 percent since the housing bust and are now at 2002 levels.
Some economists say sales increases could stop prices from falling further by early spring. Home prices tend to follow sales by about six months. When sales rise, prices rise, too, and an increase in prices would likely create a positive cycle.
Homes are the most affordable they've been in decades. And mortgage rates are just above record lows.
The job market is also getting stronger. The economy has added an average of 245,000 jobs per month from December through February. The unemployment rate has fallen to 8.3 percent, the lowest in three years.
Conditions are improving for those in position to buy a home. Still, many people can't afford to buy or are unable to qualify for mortgage. Some people in position to buy are holding off, worried that prices could fall even further.
The biggest reason why prices are still falling is foreclosures, which are still high across the country. Foreclosures and short sales — when a lender accepts less for a home than what is owed on a mortgage — are selling at an average discount of 20 percent.
Foreclosure activity surged in February across half of U.S. states. The pace of foreclosures is increasing after all 50 U.S. states reached a $25 billion settlement last month with the nation's five biggest mortgage lenders over foreclosure abuses. Many foreclosures had been stuck in limbo as the 16-month government investigation into foreclosure paperwork problems dragged on.