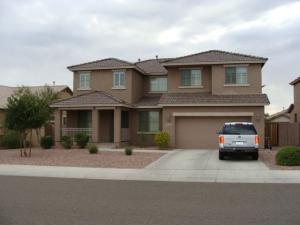 Another successfully sold and closed Short Sale listing by The Cameron Team. This Beautiful 5 bedroom 3 bathroom home is located in a great community in Peoria. Home features include 2 and a half car garage, eat-in kitchen, formal dining and living rooms, family room, full bath and bedroom downstairs, Granite Counters, Brown maple cabinets, fireplace, built in niche, plantation shutters, 18" tile, softwater, and reverse osmosis system! Backyard has sparkling pool and spa, grass area, and dog run. This home now has a new home owner.
The previous seller was affected by the Financial Crisis. They needed help to avoid Foreclosure and called upon The Cameron Team. They were way upside down with this home. We discussed the options and they reviewed the legal issues with an attorney. Next was help with the Short Sale. It can be a difficult process. We got the home sold right away. But a few months into it the buyer bought a different home. We put the home back on the market and found this buyer.
We are happy to say we helped a family in foreclosure, we stopped a foreclosure, we helped a new family into this Short Sale and now the sellers can start all over. Their next step is to work on cleaning up their credit. Maybe, just maybe, they will be able to re-enter the market as a home owner again at these low prices way below what they owed on this home.
Are you a buyer looking to purchase a Short Sale Home at a Great Price? If so, you want to be aware of the fact that some listing agents continue to search out other buyers, keep the home on the market for sale, have other offers and when they get a response from the bank they go back to ALL the buyers looking for highest and best. When you buy a Short Sale, you want an agent that knows the ins and outs. What to look for to secure as the only buyer for that home, The Cameron Team and our buyer specialists are experts in Short Sales and Bank Owned Foreclosure homes. We know the tricks and are your best choice. Call 480-502-7699 or email Jeff@TheCameronTeam.com
Are you a Seller Looking to sell your home in a Short Sale? Before you act, know your options. We have videos that walk you through the process in the privacy of your own home at what every time you wish to watch as many times as possible!
the links below will take you there:
Before Foreclosure and Short Sale: What are my Options?
Before Foreclosure and Short Sale: Save my Home!
Before Foreclosure and Short Sale:
Before Foreclosure and Short Sale: Save my Credit Through Short Sale
Before Foreclosure and Short Sale: Last Step – How to Clean up My Credit!
Or for a Free 1 hour consultation and a referral to an Attorney for 5-10 minute Free consultation call me at 480-502-7699 or click here to contact me!